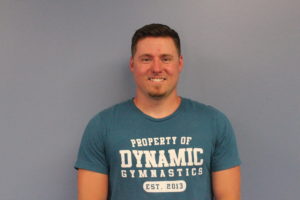 Brandon Sloan-Owner
Head T&T Team Coach
Brandon started in gymnastics at the age of 12 at Lynchburg Academy. In his first year of competing, he won his first national title in tumbling, igniting his passion for the sport. Brandon quickly moved up in levels competing as a Sr. Elite athlete and was named to the USA Senior National Team. He represented the USA in many international meets including two World Championships. Brandon has been coaching for over 12 years. He was the Assistant Coach to the National Tumbling Coach at Capital Gymnastics National Training Center for 6 years. He has coached several State, Regional, and National Champions as well as US National Team members. Brandon also serves on the Virginia USAG Board of Directors as the Coaches Representative and previously served as the Athlete Representative for many years. As a USAG Professional Member, Brandon was also a Cat. 1 T&T Judge, is safety certified, and a certified personal trainer with ACSM. Brandon graduated from Marymount University with a B.S. in Health Sciences where he studied Physical Therapy.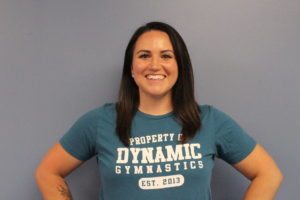 Samantha Sloan-Owner
Head Artistic Team Coach and Program Director
Samantha began gymnastics at age four and quickly fell in love with the sport. She competed through Level 9 and trained through Level 10 for Capital Gymnastics National Training Center under the USA National Team Coach. Shortly after that, Samantha found a new passion: coaching. She has been coaching both recreational and competitive gymnastics since 2008. Samantha is a USAG Professional Member and is safety certified. She truly enjoys sharing her love of gymnastics with young and energetic athletes. Samantha graduated from George Mason University with a B.S. in Tourism and Events Management.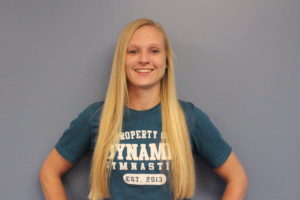 Kellie Glynn
Girls J.O. Team Coach
Kellie started gymnastics at the age of 6, and began competing for Lynchburg Academy at age 7. When she was 12, she moved to Roanoke Academy where she competed through level 9. In 2007, she qualified to level 8 Regional Championships, where she competed for the Region 7 Gymnastics Team. In 2012, Kellie began coaching gymnastics and pole-vaulting for Liberty University's Track and Field team. She pole-vaulted for 2 years, until a back injury prevented her from continuing. She felt that this injury was God's way of opening the door for her to be fully committed to coaching. Kellie has been a gymnastics team coach for 8 years now, and has her USAG Professional Membership, Safety Certification, and SafeSport Certification. She is a graduate of Liberty University with a B.S. in Kinesiology (Teacher Licensure). She was the Physical Education teacher at Bedford Elementary School for 2 years, and is now a PE teacher at Tomahawk Elementary School. Kellie is passionate about gymnastics and finds so much joy in sharing that passion through coaching.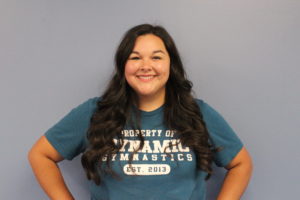 Anna Padilla
Girls J.O. Team Coach/Marketing
Anna started her gymnastics career at five years of age, training at Byers Gymnastics in Northern California. She competed as a J.O. gymnast for seven years and competed through Level 8 and training Level 9 until a spinal injury prevented her from continuing. Anna took her love for gymnastics from competing to coaching. She loves working with children of all ages, watching them have fun learning different skills and techniques. She also teaches her students that hard work and determination will help them in every area of their life. Anna is loved by her students and is an asset to the Dynamic program. She is a graduate from Liberty University with a B.S. in Business Marketing Analytics & Design. Anna has been coaching at Dynamic for 6 years and has her USAG Professional Membership and Safety Certification.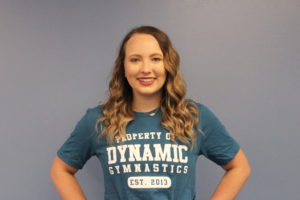 Maddie Blair
Girls J.O. and Xcel Team Coach
Maddie took her first gymnastics class at the age of four but was unable to continue due to Juvenile Rheumatoid Arthritis. Four years later, she was in remission and returned to gymnastics and started competing on team. Maddie's love for the sport has now taken her in a new direction, coaching! Her enthusiasm for gymnastics is evident in her coaching, and she loves watching her students fall in love with the sport just like she did. She is a real asset to the Dynamic coaching staff and is a USAG certified instructor as well as safety certified.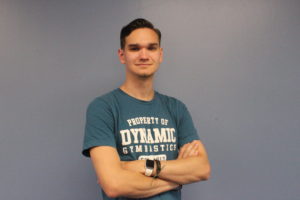 Keane Yates
T&T Team Coach
Keane has been involved in the sport of T&T since he was 7 years old. He competed for 12 years, achieving the highest competitive level of Senior Elite on the Tumbling event as well as reaching Open Elite on the Double Mini. At the age of 15 he discovered a love and talent for coaching. Believing his time on the Tumbling team was invaluable in teaching him good work ethic and self-discipline, he desires to push his athletes to learn the same. Keane is 22 years old and is currently a senior in the Liberty University School of Music.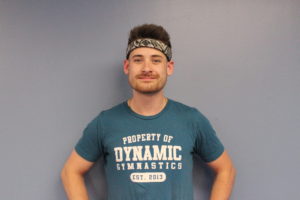 Aaron Watson
Girls Xcel Team Coach
Aaron started Gymnastics at a very young age and would later try other sports before finding his way back to the gymnastics world. By the time he entered the sport again he soon discovered the difficulty on catching up to the team requirements, but that did not stop him. By the time Aaron graduated high school, he had over 8 years on a competitive level gymnastics team ending his high school career as a level 10 gymnast with one season of judging experience. During his early high school years, Aaron also started coaching pre-school classes as well as level 4-6 team boys at the local gym facility where he trained. During his last regional competition, Aaron placed 11th in the region on the rings, coming back from tearing a tendon in his shoulder that previous summer. Aaron also competed two years on Liberty University's club gymnastics team and is currently a senior in the graphic design program. Aaron is USAG professional member and safety certified.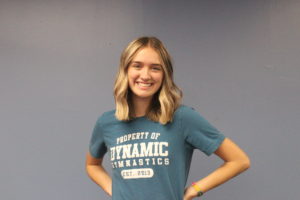 Kaelyn Weaver
Girls Xcel Team Coach/Girls Pre-team
Kaelyn started gymnastics at the age of 9 and completely fell in love with the sport. After competing on the J.O. team for four years, her gymnastics career came to an end because of multiple irreversible back injuries. Throughout the whole experience, her former gymnastics coach, Kellie Glynn, made her realize that everything happens for a reason, and God's plan is always better than our own. Now she is using her love for gymnastics to pour into the children she coaches. Kaelyn's former gymnastics coaches had such a positive impact on her life, that she strives to have the same impact on the kids she coaches. Her positive attitude, knowledge of the sport, and love for children is a real asset to our coaching team at Dynamic. Kaelyn is currently a student at Liberty Christian Academy and has plans to attend Liberty University in the near future.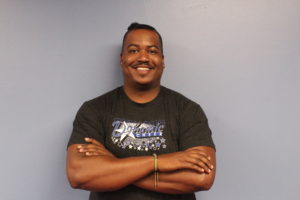 Will McIvor
Dynamic Cheer All-Star Coach
Will is no stranger to the area, or to the world of cheerleading. Will started his cheerleading journey right here on the outskirts of Lynchburg, in the town of Rustburg, where he competitively cheered for Rustburg High School winning District & Regional championships and placing at State. After high school, Will cheered at Bridgewater College participating on their co-ed football and basketball cheerleading teams. While at Bridgewater College, he started coaching at Turner Ashby High School in Harrisonburg, VA as assistant football and basketball cheerleading coach. Will even took on the role of becoming the competitive cheerleading coach at Turner Ashby, taking the "Knights" all the way to states for their first time in over 3 years.To continue his coaching experience, Will joined the Southern ChaRm Cheerleading Company, in Waynesboro VA, becoming a cheer, dance and tumbling coach to numerous teams and athletes winning countless awards. He also competed on Southern ChaRm's Open Co-ed Level 5 All-Star team. Moving back to his home town of Rustburg after graduating, Will has been helping out with local high schools in the area, judging tryouts, hosting "Cheernastic" camps, and assisting in practices, all while working at Wells Fargo. He brings experience, professionalism, and a ton of enthusiasm to the Dynamic All-Star cheerleading coaching staff.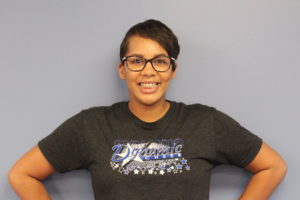 Chrishonda Davis
Dynamic Cheer All-Star Coach
Chrishonda has more than 20 years of cheer, choreography, and dance experience. She began her cheering career at the age of 5, cheering for the local youth league continuing through high school and competing with all-star teams. She began her coaching career at the age of 16 with middle school and all-star teams. Her choreography experience originated during many years in Theater and Chorus in elementary, middle, and high school. Chrishonda also choreographed and danced under the direction of Keith Lee at Dance Theatre of Lynchburg and the Academy of Fine Arts.
It is no surprise that Chrishonda continues to share her positive and bubbly personality with her students at Lynchburg City Schools. She is also safety certified and a USASF certified coach for levels 1-3.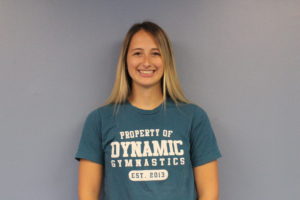 Halsey Forster
Recreational Director/T&T Pre-team
Halsey started gymnastics when she was 4 years old in Las Cruces, New Mexico and immediately fell in love with the sport. She accelerated quickly, winning states her first year of Level 4. The next year she also won states competing as a Level 6. In the summer of 2011 Halsey moved to Virginia where she started Level 9 at Apollo Gymnastics. That year she qualified for nationals and placed 18th. The next year she repeated Level 9 winning Regionals in All Around and Balance Beam; and placed 3rd in All Around and beam at Nationals. After training for Level 10 as a Senior, she was forced to retire due to a back injury.
After retiring from competing Halsey started coaching. While coaching she discovered Trampoline and Tumbling. She began participating in T&T last year and went to Nationals where she placed in the top 20 in Trampoline and tied 6th for Tumbling at Level 8. She is now training Level 10 in T&T.
Along with coaching and training she is also a full time student at Radford Carilion where she is studying to be a Surgical Technician. In her free time she loves to hang out with family and workout.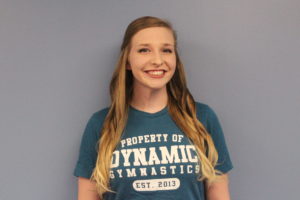 Kathleen Glover
Girls Pre-Team, Developmental Team, and Recreational Coach
Kathleen started gymnastics at an early age and competed for eight years winning a state all around championship in 2013. She was also a state beam and vault champion in her competitive career. After 10 years as a gymnast, Kathleen has taken her passion for the sport in the direction of coaching. She hopes to share the same love and passion with the children she coaches. Kathleen's smile and energy are contagious as she encourages her students to reach new goals. She just finished her first year of college at Word of Life Bible institute and now plans to continue her education in nursing. She hopes to pursue a career as an emergency room nurse specializing in trauma. Kathleen is USAG safety certified and a certified instructor.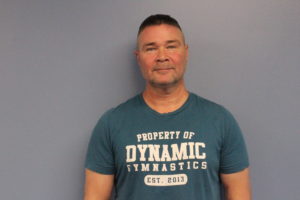 Dennis Hardenburg
Preteam T&T and Tumbling Coach
Dennis was a competitive gymnast in New Jersey for 6 years. While also student coaching he quickly fell in love with the challenge and satisfaction of assisting a student acquiring a new skill.
While serving in the United States Air Force Security Forces for 6 1⁄2 years, Dennis started a gymnastics competition circuit between the American Youths Association for all Air Force Bases in Germany. Upon exiting the USAF, he began coaching USAG girls competitive gymnastics and assisting in tumbling for various cheer teams. This led to a full time tumbling instructor position with World Cup All Stars in Freehold, NJ. In April of 2007, Dennis coached two teams to World Championship titles. In 2007, he started coaching at Stingray All Stars in Marietta, GA taking team Orange to 2 consecutive World Championship titles in 2008/2009.
In 2010 he started coaching tumbling for Twister All Stars in Cumming, GA. While there was recruited by the Australian All Star Federation in January of 2011 to coach the Australian Outlaws Open Worlds Cheer team in Melbourne, Victoria, Australia.
Returning to Georgia in February of 2011, Dennis taught recreational tumbling, tumbling team, as well as numerous private tumbling lessons at Twister All Stars until 2020 when he moved to Lynchburg, VA. Dennis also holds a passion for video production and has done numerous college try out videos, end of season banquet videos, special moments photography, and utilized drone video for special events.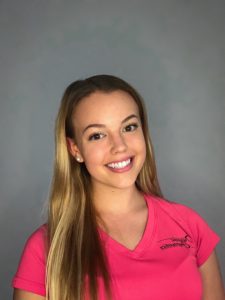 Nikole Vanderhoef
Recreational Coach
Nikole began taking gymnastics classes at the age of 12. During this time, she gained a love for tumbling and began to further develop her skills through private lessons. She continued her pursuit for technique and capabilities through competitive cheerleading during middle and high school. Nikole has been coaching recreational gymnastic classes for 5 years. She loves working with children and helping them grow in their love for gymnastics. Nikole is a student at Liberty University, studying Therapeutic Exercise Science. She is a USAG certified instructor, with USAG safety certification credentials.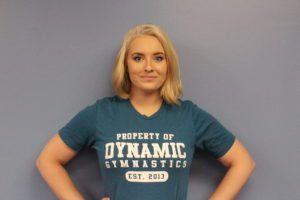 Alexia White
Recreational Coach
Coach Alex joined the Dynamic coaching staff with 10 years of competitive cheerleading experience. A graduate of Rustburg High School, she participated in the dual enrollment program at CVCC where she is completing her required pre-requisites. She hopes to attend the University of Lynchburg and become a Certified Athletic Trainer. Alex also cheered for Rustburg HS and loved every aspect of cheering, especially being a flyer. She loves working with children and feels that gymnastics is not only fun but provides the perfect learning environment. Her cheerful disposition and eagerness to learn makes her a real asset to Dynamic! Alex is safety certified and a USAG instructor.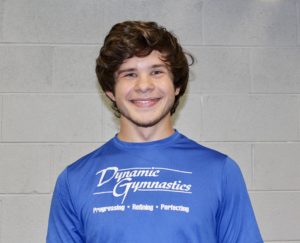 Daron McNutt
Tumbling/Ninja Coach
Daron started training Parkour at 12 years old, taking his first gymnastics class shortly after. For the next 7 years, Daron has been improving and widening his skill set, training sports like rock climbing, martial arts, free running, and dance. During this time, Daron was involved in teaching Parkour and gymnastics, while growing a Parkour community in his hometown of Winchester VA. Daron's passion is to form a creative community for traceurs and ninja warriors to pursue their craft. Daron is an Entrepreneurship major at Liberty University, with dreams of starting an engineering firm.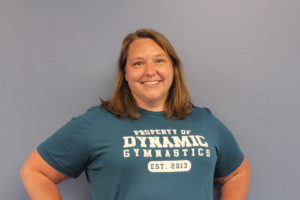 Jessica Shipe
Front Desk & Accounting
Jessy has been a part of the Dynamic family for three years. She loves working with children and is passionate about encouraging them to learn and grow. She is a home school Mom and Girl Scout leader, and her daughter, Natalie, is on the Xcel team here at Dynamic. Jessy is a Silver leader with Young Living and she is enthusiastic about sharing her love of natural living. With a background in customer service and clerical duties, we are blessed that she is a part of our gym team.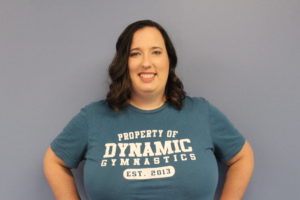 Ashlee Blair
Front Desk
Ashlee has been part of the Dynamic family for five years. She is mom to our very own Coach Maddie. Her daughter Kathryn is on our Optional Gymnastics Team. In addition to working at our front desk, she is also a homeschool mom. Before being promoted to stay-at-home mom, Ashlee spent over 7 years in an office setting at an architectural/engineering firm and also a real estate office.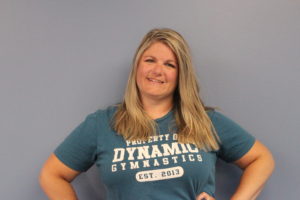 Crystal Hazelwood
Front Desk & Cheer Director
Crystal has three children that are Dynamic athletes. Emma is on our Xcel Competition Team. Riley and Eleanor are on our Dynamic Cheer Team. She joined the front desk staff earlier this year and comes with 12 years of office management experience in an educational setting. She has been volunteering as the Head Cheer Team Mom for 2 years; helping them organize, fund raise, and manage team events. Crystal is excited to be a part of our front desk staff.