Open Cheer Clinic- Saturday, May 18th
Ages 5-7 will be from 12:00-1:00pm
Ages 8-18 will be from 1:30-3:30pm
**Register by May 15th**
2019-20 TEAM TRYOUTS-SATURDAY, JUNE 8th
Ages 5-7 will be from 12:30-1:30pm
Ages 8-18 will be from 2:00-3:00pm
The Dynamic Cheer Mission:
Our mission at Dynamic Cheer is to build an elite level all-star cheer program by molding the physical, mental, and social skills of its team members in order to competitively perform at all levels of competition. We at Dynamic believe that hard work, dedication, positive attitudes, and healthy lifestyles can lead to more than championship trophies.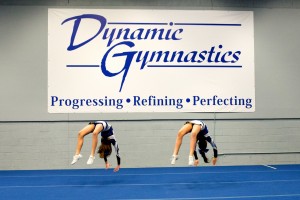 What We Do:
The Dynamic Cheer coaching staff works hard to build valuable and outstanding future members of society. We strive to instill the leadership skills, self motivation skills, individual responsibilities, and respect for others that mold young people into model citizens. At Dynamic Cheer, each athlete is involved in a positive environment where he/she is encouraged to achieve his/her own personal goals while contributing to the overall team goals set out by the coaches each year.  When all team members reach their maximum potential as an individuals, the team reaches its maximum potential by winning championships!
**Dynamic Cheer Requirements**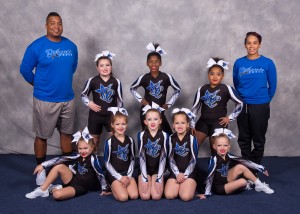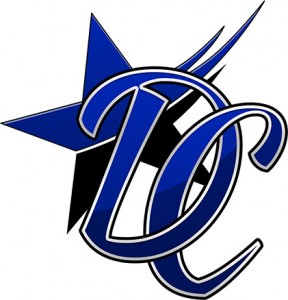 Ages for Teams are as follows:
Tiny-Ages 5 & 6, Mini- 8 & Under, Youth-11 & Under, Junior- 14 & Under, Senior-18 & Under
Level 1 Tumbling- Forward roll, backward roll, Front Walkover, Back Walkover, Cartwheel, Round-Off
Level 2 Tumbling- All above plus Round-Off Back Handspring, Standing Back Handspring
Level 3 Tumbling- All above plus Round-Off Back Handspring Tuck, Round-Off Tuck
Level 4 Tumbling- All above plus Standing Back Tuck, Round-Off Back Handspring Layout, Punch Front Round-Off
Level 5 Tumbling-All above plus Round-Off Back Handspring Full
Coaches Bios:
Will McIvor:
Will is no stranger to the area, or to the World of Cheerleading. Will started his cheerleading journey right here on the outskirts of Lynchburg, in the town of Rustburg, where he competitively cheered for Rustburg High School winning District & Regional championships and placing at State. After high school, Will cheered at Bridgewater College participating on their co-ed football and basketball cheerleading teams.While at Bridgewater College, he started coaching at Turner Ashby High School in Harrisonburg, VA as assistant football and basketball cheerleading coach. Will even took on the role of becoming the competitive cheerleading coach at Turner Ashby, taking the "Knights" all the way to states for their first time in over 3 years.To continue his coaching experience, Will joined the Southern ChaRm Cheerleading Company, in Waynesboro VA, becoming a cheer, dance and tumbling coach to numerous teams and athletes winning countless awards. He also competed on Southern ChaRm's Open Co-ed Level 5 All-Star team.Moving back to his home town of Rustburg after graduating, Will has been helping out with local high schools in the area, judging tryouts, hosting "Cheernastic" camps, and assisting in practices, all while working at Wells Fargo. He brings experience, professionalism, and a ton of enthusiasm to the Dynamic All-Star cheerleading coaching staff.
Chrishonda Davis:
Chrishonda has more than 20 years of cheer, choreography, and dance experience in Lynchburg, Va.  She started cheering at the young age of 5 years old at Heritage Elementary School, advanced to high school cheer at Heritage High School where she competed in the VA District and Regional's competition. In addition to high school cheer, Chrishonda participated in competitions with the Cheer Xtreme All-Star Team.  Her dedication and passion for cheer, lead her to Head Cheer Coach for Heritage Elementary School, 2006-2008 and later for Dunbar Middle School in 2012 where she established Dunbar's first Competition Squad.  Under her leadership and direction, Dunbar competed in Spirit Fest, Cheer Sport, and Spirit Solutions. The very first year they won 2nd place and 2nd year, 1st place! Chrishonda also choreographed for Premier Cheer in 2016.
Chrishonda's choreography experience originated during her years of Theater/Chorus in elementary school, middle school, and high school. Chrishonda also choreographed and danced under the direction of Keith Lee at Dance Theater of Lynchburg from 1996-2005 and the Academy of Fine Arts 2005-2006.
Chrishonda's belief is that a team can accomplish whatever they strive for as long as they share one thing in common and that's One Heartbeat. It is no surprise that she is an Attendance Clerk and Dance Instructor for Lynchburg City Schools where she can instill this within her students.
Chrishonda is currently majoring in Exercise Science at Liberty University and will obtain her CPT as well.