The Dynamic Cheer Mission:
Our mission at Dynamic Cheer is to build an elite level all-star cheer program by molding the physical, mental, and social skills of its team members in order to competitively perform at all levels of competition. We at Dynamic believe that hard work, dedication, positive attitudes, and healthy lifestyles can lead to more than championship trophies.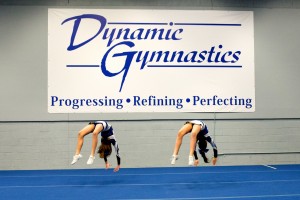 What We Do:
The Dynamic Cheer coaching staff works hard to build valuable and outstanding future members of society. We strive to instill the leadership skills, self motivation skills, individual responsibilities, and respect for others that mold young people into model citizens. At Dynamic Cheer, each athlete is involved in a positive environment where he/she is encouraged to achieve his/her own personal goals while contributing to the overall team goals set out by the coaches each year.  When all team members reach their maximum potential as an individuals, the team reaches its maximum potential by winning championships!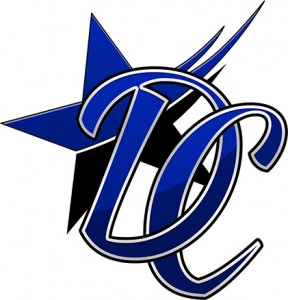 2017-18 Dynamic Cheer Training Overview
| | |
| --- | --- |
| Youth Team | Practice: Monday & Wednesday 6:00-8:00pm. Tuition includes a tumbling class of your choosing at the appropriate tumbling level. |
| Senior Team | September-November: Practice on Sunday 2:00-4:30pm.  Tuition includes a tumbling class of your choosing at the appropriate tumbling level.December-May: Practice on Sunday 2:00-4:30pm, Wednesday 7:00-9:00pm, and a tumbling class of your choice. |
| Choreography | TBD |
| December | Competition Kickoff at Dynamic Gymnastics!!! |
| January-April | Competition Season |
|  May |  U.S. Finals |
**Dynamic Cheer Requirements**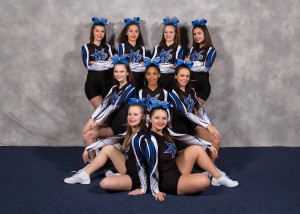 Ages for Teams are as follows:
Tiny-Ages 5 & 6, Mini- 8 & Under, Youth-11 & Under, Junior- 14 & Under, Senior-18 & Under
Level 1 Tumbling- Forward roll, backward roll, Front Walkover, Back Walkover, Cartwheel, Round-Off
Level 2 Tumbling- All above plus Round-Off Back Handspring, Standing Back Handspring
Level 3 Tumbling- All above plus Round-Off Back Handspring Tuck, Round-Off Tuck
Level 4 Tumbling- All above plus Standing Back Tuck, Round-Off Back Handspring Layout, Punch Front Round-Off
Level 5 Tumbling-All above plus Round-Off Back Handspring Full
Coaches Bios:
Katie Kelley
Katie began tumbling, dance, and cheerleading at a young age; cheerleading in particular continued to be her passion throughout her school years and in college. While attending the University of Arkansas-Fort Smith, she cheered on the Co-Ed Cheer Team for four years and was captain for the final two years. Katie also began coaching at Arkansas Cheer Unlimited in Fort Smith, Arkansas while in college.
After receiving her Bachelor of Science in Organizational Leadership from the U of Arkansas, Katie continued coaching at Arkansas Cheer Unlimited for seven years, coaching competitive all-star teams and recreational classes in tumbling, cheer technique, conditioning, flexibility, cheer prep, and stunt classes. She also taught numerous school camps and choreographed many elementary, junior high, and high school routines.
Katie and her husband relocated to Virginia, and her husband is now deployed with the United States Navy. After moving to the area, she luckily came across Dynamic Gymnastics and the Dynamic Cheer Program. Katie is looking forward to putting her knowledge and years of experience to use coaching these amazing athletes, helping them to achieve their goals, and leading them to grow together as a team.
Will McIvor:
Will is no stranger to the area, or to the World of Cheerleading. Will started his cheerleading journey right here on the outskirts of Lynchburg, in the town of Rustburg, where he competitively cheered for Rustburg High School winning District & Regional championships and placing at State. After high school, Will cheered at Bridgewater College participating on their co-ed football and basketball cheerleading teams.While at Bridgewater College, he started coaching at Turner Ashby High School in Harrisonburg, VA as assistant football and basketball cheerleading coach. Will even took on the role of becoming the competitive cheerleading coach at Turner Ashby, taking the "Knights" all the way to states for their first time in over 3 years.To continue his coaching experience, Will joined the Southern ChaRm Cheerleading Company, in Waynesboro VA, becoming a cheer, dance and tumbling coach to numerous teams and athletes winning countless awards. He also competed on Southern ChaRm's Open Co-ed Level 5 All-Star team.Moving back to his home town of Rustburg after graduating, Will has been helping out with local high schools in the area, judging tryouts, hosting "Cheernastic" camps, and assisting in practices, all while working at Wells Fargo. He brings experience, professionalism, and a ton of enthusiasm to the Dynamic All-Star cheerleading coaching staff.